Anniversary offer: Get £10 off and a chance to win a free year.Use code GET10 when placing your order. Look for the question "Have a coupon code? Add it here" when you're at the checkout.
Extra push-button pendant free with every order
Detects when you take a fall
Includes a base unit and a fall sensor
Can be used at home and in the garden
Fall Alarm plan
Automatically calls for help when you fall
Pay today
Annual Billing
Lower cost
Monthly Billing
12 payments of
£
16.99
£190

200m range
Waterproof fall detector
24/7 monitoring for 12 months
Neck or wrist worn
Plug and play
---
Price excludes VAT, which 95% of our customers don't pay. Learn more.
£16.99
200m range
Waterproof fall detector
24/7 monitoring for 12 months
Neck or wrist worn
Plug and play
---
Price excludes VAT, which 95% of our customers don't pay. Learn more.
Prone to falls
?

Help is at hand

.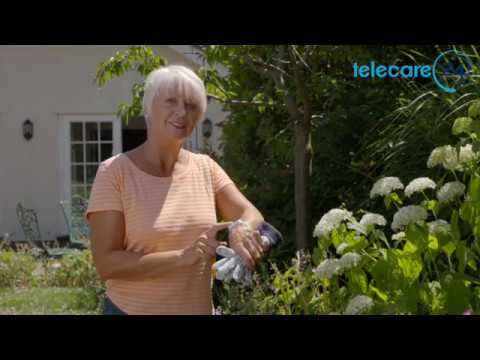 For at home and in the garden
.
Get
£

10 off and a year's free monitoring
£10 off and a year's free monitoring">
In celebration of our 10 year anniversary, we're giving new customers £10 off and a chance to win a year's free service.
Use code GET10 at the checkout to save £10 and enter the draw.
"Telecare24 has given me confidence to live alone"
Offer ends August 31st. Terms apply.
What happens when I raise the alert
?
?">
What equipment will I get
?
How does the fall sensor work
?
You lose your balance and you suffer a heavy fall.
Moments later, a silent 20-second timer will begin, and the sensor will start to vibrate.
If you move or attempt to stand up, the alarm will be cancelled.
You can also cover the sensor with your hand to cancel the alarm.
After 20 seconds, if haven't moved or tried to cancel the alarm, the base unit will alert our team.
Our monitoring team will begin speaking to you, arranging any help that you may need.
How is it activated?
Push a button

Get help by pressing the button on the fall sensor, or by pressing the red button on the base unit.

Automatic fall detection

Within seconds of your alarm being triggered by a fall, we'll be speaking to you through the base unit and we'll get you the help you need.
Range
Up to 200m

This is the approximate distance you can be from the base unit and still press your fall sensor to activate an emergency call. Distances can vary depending on thickness of walls and other factors.
Where can it be used?
At home
In the garden
In the bath or shower

The fall sensor is waterproof with an IP67 rating, which means you can comfortably wear your alarm whenever you take a bath or shower.
Wearing options
On the wrist

Wear it like a watch.

Around the neck

Wear it on a lanyard.
Size and weight
Fall sensor: 37 x 33 x 12.7mm (HxWxD), 35 grams
Base unit: 130 x 175 x 68mm (HxWxD), 300 grams
Careline service
24/7 monitoring for 12 months

Our emergency response team are available 24/7, 365 days a year, and can be contacted by activating your careline alarm.
Contract
Minimum 12 months

We don't tie you into a contract, so you can cancel your service at any time.
Requirements
A working phone line

Please note, our alarms are not compatible with internet-based phone lines.

Some customers require an ADSL filter (not included)

Only applicable if you have broadband installed in your property. If you do, you've probably already got an ADSL filter - these are normally supplied by your service provider.

You must complete a Service Agreement

We'll ask you to fill in a short form after you have placed your order. This is how we collect your medical and emergency contact details.
Billing
Pay monthly at

£

16.99 for 12 months or save when you pay for 12 months upfront at

£

190

Price shown excludes VAT
Setup fee
A one-time setup fee of

£

45

This non-refundable fee enables us to prepare your new careline alarm and collate all of your medical and emergency contact details on our systems.
Optional extras
Key safes and extra pendants available

You can add these to your basket during the checkout.
Frequently asked questions
Here are some of the most common questions about our fall alarm.
When you activate your alarm, we'll speak to you through the loudspeaker and microphone on the base unit.
*Please note, the fall sensor does not have a built-in microphone.
No. The device is not designed to trigger if it's thrown on the floor or dropped.
When you trigger your alarm, your careline alarm unit will call our control centre using an 0844* number. We will not charge you when this happens.
Please note, however, that your telephone service provider may charge you for these calls. Please check your phone providers tariff or visit OFCOM for further details.
*0844 telephone numbers are recommended by Ofcom for contacting organisations such as Telecare24.
You'll need a working landline telephone for this plan. If you don't have one, our GPS plan may be suitable.
You can always speak to our team to discuss your needs.
Hear from the people we've helped
.
"Life is fragile; no one knows this more than us. Please protect those you love with a Telecare24 alarm."
Anne
Fall Alarm
"The voice at the end of the telephone has always been kind, helpful and willing to talk, even in the middle of the night."
Lyn
Fall Alarm
"It is such a comforting thought to know that the back up is there at the touch of a button should an emergency arise."
Brenda
Pendant Alarm
Need some help?
Here are some helpful links.
---
Want to talk to someone?