How Telecare24 works
With Telecare24, you never face an emergency alone. Here's how it works.
Order your alarm online, by post, or by giving us a call.
Your new careline alarm is ready to use out of the box.
Continue with your everyday activities.
If you need help, push the SOS button.
If you have our fall alarm, it will automatically activate if a fall is detected.
Our careline monitoring team will get you the help that you need.
Set up in just a few steps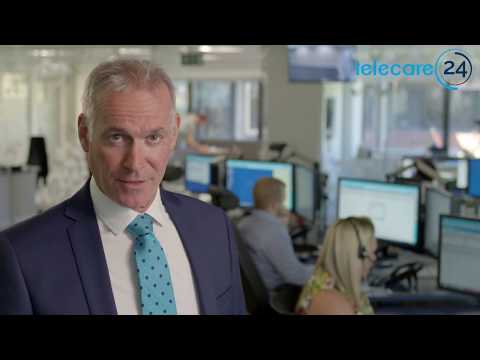 What happens when I ask for help?
When you press your pendant, you obviously want to receive help as soon as possible.
Watch this short video of an emergency call demonstration, presented by Telecare24 ambassador and TV's very own Dr Hilary Jones.
About our careline team
FAQs
Some of our most commonly asked questions.
Yes. Our careline alarms will work up to 200 metres from the base unit, depending on which of our plans you choose. That's comfortably enough for most homes and gardens.
With our Buddi GPS plan, you can go anywhere.
To raise the alert, just press the SOS button that is located on your alarm.
Pendant alarm and fall alarm customers can also press the button on the included base unit.
If you have a fall alarm or a GPS alarm, your device can automatically detect when you have fallen and raise the alert for you, even if you can't.
Yes. Ideally, you should activate your pendant at least once a month and make a test call to our team. It gives you the reassurance that your alarm is working and lets us know it's fine too.
Yes. Your careline unit will still work as it has a battery back up which will power the unit for approximately 48 hours.
Need some help?
Here are some helpful links.
---
Want to talk to someone?