Wondering what a careline alarm is, who can use one, or how they work? Our guide aims to give you those answers and more.
Need more information? Request a free info pack, send us a message, or give us a call and we'll be happy to help.
Use the links below to jump to the section you want to read first:
What is a careline alarm
?
What is a careline service
?
Who are careline alarms for
?
Careline alarms are used every day by people in different situations with different needs, and they're not just for the person using them.
For independent people who live at home alone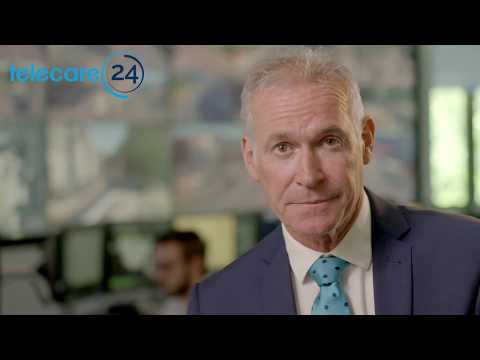 For vulnerable people who may need help fast
For active people who get out and about
For loved ones, family and friends
How does a careline work
?
Press the button on your pendant or base unit to call for help.
Seconds later you're connected to the monitoring team via the loudspeaker on the base unit.
If you need help, the operator can notify someone you trust or contact the emergency services.
What happens when you use a careline alarm to call for help
?
?">
Do careline alarms work outdoors
?
Why choose us
Telecare24 has been helping thousands of families be worry-free since 2010, providing a service that aims to give people the confidence to live independently.
We are very proud of the service we deliver, and we are confident that you too can enjoy a worry-free life with Telecare24.
On the page linked below, we have highlighted some areas we think are really important to consider before choosing a careline provider.
Compare careline providers
What are GSM / GPS alarms and do I need one
?
What's the difference between careline alarms and personal alarms, lifeline alarms etc
?
More FAQs
Some more most commonly asked questions about careline alarms.
The best providers will dispatch your equipment within 24 hours of you placing your order and will use Next Working Day delivery services to dispatch your equipment.
Typically, when you raise an alert for help using a careline alarm, your unit will place a call to a control centre using an 0844 number*.
While most careline providers do not charge you for these calls, your telephone service provider may apply a charge.
You should check with your phone provider or visit Ofcom for further details.
*0844 telephone numbers are recommended by Ofcom for contacting organisations such as Telecare24.
Most providers will accept credit/debit cards, and modern methods such as PayPal.
The best providers will also accept Direct Debit and cheque, which many older people still use.
If you have a disability or a long-term medical illness, HMRC allows you to order a careline alarm without paying VAT. This is typically known as VAT exemption.
Learn more about VAT exemption and how you can take advantage of this 20% saving when you purchase a careline alarm.
A careline alarm is perfect for someone who lives alone and wants to keep to their independence. Careline alarms can help you to live a more fulfilling and independent life for longer.
A careline alarm is especially helpful if you have a long term medical condition such as arthritis, angina, diabetes or a have had a stroke.
A fall alarm is particularly helpful if you have become a little unsteady on your feet and may be susceptible to a fall.
A pendant alarm also offers peace of mind for people who have family who live some distance away or for individuals who may be vulnerable and need assistance occasionally.
A careline alarm can be located virtually anywhere in your home.
Traditionally, you need a telephone line with a modern phone socket and a mains power point close by. You should not need another phone line installed.
Some modern careline alarms use the mobile phone network to function, avoiding the need for a physical landline.
A good careline alarm provider should make it easy for you to install the careline system yourself.
Traditional equipment simply needs to be plugged into your existing telephone socket and into the mains for power.
If you don't feel confident doing this yourself, you should be able to contact your careline provider for assistance over the phone.
Most careline providers require you to have a keyholder that lives within 20 minutes of your home.
Some providers, such as Telecare24, don't require you to have any keyholders - so long as you have a key safe.
Having a key safe installed means the emergency services can still get to you, even if you are not able to let them in.
Typically, a wearable careline alarm (such as a pendant or bracelet) is worn either on a lanyard or around the wrist.
When your loved one needs assistance, they push the button on the wearable device, which triggers the careline base unit to place a call to the monitoring team.
Once the call is connected, the operator will assess the situation and provide help as necessary.
When you press the red button on a careline alarm pendant or base unit, it connects you to a central monitoring team who will assess the situation and help as needed.
A good careline operator will already have your details onscreen when you call, meaning they can respond faster and get you the help that you need.
Careline alarm systems have a powerful loudspeaker and microphone in the base unit, which is how you communicate with the operator.
The best careline operators will stay on the line with you until help arrives.
Most careline pendants are perfectly fine to wear in bed.
However, if you find a pendant uncomfortable to wear at night and take it off, it's recommended that you keep it close by in the case of an emergency.
Extra pendants are an excellent idea if you have someone else living in your home who may also benefit from using a careline alarm, or if you would like another device to have handy somewhere in your home.
The best careline providers will allow you to add multiple users to a single plan, without charging you additional setup fees or administration costs.
Most careline pendants are waterproof and can be worn in the bath or shower.
The best providers won't mind when you trigger your alarm accidentally.
In fact they'll be pleased, knowing that your equipment is working and you are safe and well.
Ideally you should activate a careline pendant at least once a month and make a test call to the monitoring team.
This gives you the reassurance that your alarm is working, and it lets your careline provider know you are fine too.
A good careline system will have a backup battery to keep the device working for about 48 hours in the event of a power cut.
Faults with equipment from careline alarm providers are rare as they are thoroughly tested for reliability, which is important for life-saving devices.
Hear from the people we've helped
.
"Life is fragile; no one knows this more than us. Please protect those you love with a Telecare24 alarm."
Anne
Fall Alarm
"It is such a comforting thought to know that the back up is there at the touch of a button should an emergency arise."
Brenda
Pendant Alarm
"This gives my family and me the best peace of mind that I could wish for. I don't know where we would be without it. Thanks all at Telecare24 for providing this; you have been angels."
Carol
Pendant Alarm
Need some help?
Here are some helpful links.
---
Want to talk to someone?