Wondering what a careline alarm is, who can use one, or how they work? Our guide aims to give you those answers and more.
Need more information? Request a free info pack, send us a message, or give us a call and we'll be happy to help.
Use the links below to jump to the section you want to read first:
What is a careline alarm
?
What is a careline service
?
Who are careline alarms for
?
Careline alarms are used every day by people in different situations with different needs, and they're not just for the person using them.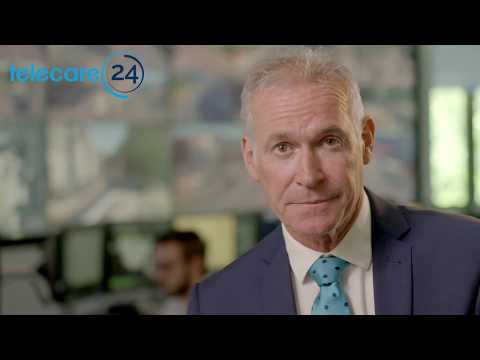 For independent people who live at home alone
For vulnerable people who may need help fast
For active people who get out and about
For loved ones, family and friends
How does a careline work
?
Press the button on your pendant or base unit to call for help.
Moments later you're connected with our team through the loudspeaker on the base unit.
If you need help, we can either notify someone you trust or contact the emergency services.
?">
What happens when I ask for help
?
Do careline alarms work outdoors
?
Why choose us
Telecare24 has been helping thousands of families be worry-free since 2010, providing a service that aims to give people the confidence to live independently.
We are very proud of the service we deliver, and we are confident that you too can enjoy a worry-free life with Telecare24.
On the page linked below, we have highlighted some areas we think are really important to consider before choosing a careline provider.
Compare careline providers
What are GSM / GPS alarms and do I need one
?
What's the difference between careline alarms, personal alarms, lifeline alarms etc
?
Frequently asked questions
Some more most commonly asked questions about careline alarms.
If you have a disability or a long-term medical illness, HMRC allows you to order a careline alarm from Telecare24 without paying VAT. We call this VAT exemption.
Learn more about VAT exemption and how you can take advantage of this 20% saving when you purchase a careline alarm.
You don't have to have a keyholder to use our service, but some of our competitors require that you do.
We are one of the only careline providers who allow you to join to our service even if you don't have any keyholders living nearby; all we ask is that you buy and install a key safe.
Having a key safe installed means we can still get you the help you need in an emergency, even if you don't have a keyholder living close by.
We welcome you to add extra devices when placing your order. This can be done easily at the checkout when you order online, or just by letting us know when ordering over the phone.
This is an excellent idea if you have someone else living in your home who may also benefit from using a Telecare24 careline alarm, or if you would like another device handy in another location in your home.
If you order an extra pendant or fall sensor for somebody else, we'll ask you for their medical and emergency contact details as well.
Extra pendants and fall sensors are available at an additional cost.
Hear from the people we've helped
.
"Life is fragile; no one knows this more than us. Please protect those you love with a Telecare24 alarm."
Anne
Fall Alarm
"It is such a comforting thought to know that the back up is there at the touch of a button should an emergency arise."
Brenda
Pendant Alarm
"This gives my family and me the best peace of mind that I could wish for. I don't know where we would be without it. Thanks all at Telecare24 for providing this; you have been angels."
Carol
Pendant Alarm
Need some help?
Here are some helpful links.
---
Want to talk to someone?